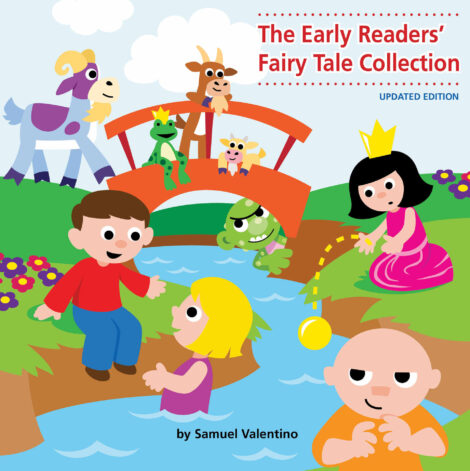 Early Readers
The Early Readers' Fairy Tale Collection, Updated Edition
by Samuel Valentino
The Early Readers' Fairy Tale Collection is a series of classic stories retold by author Samuel Valentino. The updated edition of the collection includes three entertaining stories that teach important lessons to young children about sharing, keeping promises, team work, and the dangers of greed. The Frog Prince, The Woodcutters and the Mermaid, and The Three Billy Goats Gruff are brought to life by Samuel Valentino's unique illustrations and text. Early readers will enjoy the brightly colored scenes and engaging characters found in the pages of these books. Author and illustrator Samuel Valentino spins a great yarn in these amusing, whimsical tales of resilience, creativity and transformation. The updated edition also includes activity pages that you children can color and enjoy.
Where to Buy
Suggested Retail Price: $15.99
Distributor: Ingram Wholesale
Reviews
" Great for Both Parents and Kids
I remember reading The Frog Prince as a child, and I'm excited that my daughter can now enjoy the story through this modern day take on one of my favorite stories." 
" One of our favorites!
My son absolutely LOVES this [Three Billy Goats Gruff] book! The illustrations are so vibrant they, along with this wonderful story, pull kids right in. I strongly recommend this book along with the rest of the series."
About Samuel Valentino
Samuel Valentino has a love for telling children's tales. For more than 10 years, he has been creating his own unique books as personalized gifts to each of his children. This collection is the result of those personalized books.
A lifelong writer and reader, book illustration remains one of Sam's most enjoyable artistic expressions. Valentino lives in the Greater Atlanta Area with his wife and their three children. Valentino is also the author and illustrator of The Silver Rings and the illustrator of The Jungle Explorers.
Other Books by This Author