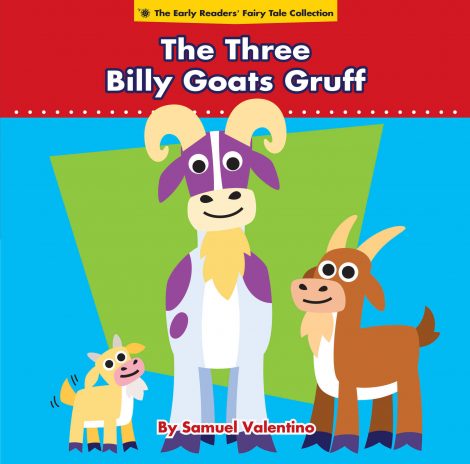 Early Readers
The Three Billy Goats Gruff
by Samuel Valentino
The Early Readers' Fairy Tale Collection is a collection of classic tales brought to life by author Samuel Valentino and Brattle Publishing Group. The Three Billy Goats Gruff and two other tales will enhance your lessons. Wrapped around valuable moral lessons, each tale reinforces social and emotional lessons. In the classic tale The Three Billy Goats Gruff, we meet the three goats named Gruff who outsmart a hungry troll.  Samuel Valentino's charming retelling of this tale stresses the importance of not being greedy and the advantages of problem-solving. Valentino also illustrates this 28-page book with bright colors and images that will excite young readers.
Where to Buy
Suggested Retail Price: $8.99
Distributor: Ingram Wholesale
Reviews
"My son absolutely LOVES this book! The illustrations are so vibrant they, along with this wonderful story, pull kids right in. I strongly recommend this book along with the rest of the series."
"I bought The Three Billy Goats Gruff and the whole fairy tale collection for my son. He brings it with him to his daycare program and tells me that the kids love them. The other kids even want to keep the books. Luckily this story teaches working together and sharing!"
"As a dad, I appreciate how The Three Billy Goats Gruff gave me a fun and entertaining way to teach my kids the importance of teamwork."
About Samuel Valentino
Sam Valentino has a love for telling children's tales. For over 10 years, he has been creating his own unique books as personalized gifts to each of his children. These books have been his inspiration to create fairy tales—which he also beautifully illustrates.
Sam has been writing and illustrating for as long as he can remember. From his early crayon beginnings, Sam has moved on to almost all media. From sketching storyboards and animated commercials to painting murals in childcare centers, Sam has tried it all. A lifelong writer and reader, book illustration remains one of his most enjoyable art endeavors.
Sam lives in the Atlanta area with his wife, who is a wonderful graphic designer and just plain wonderful in general. They have three children, all of whom like drawing. Unlike their father, however, they are also musically talented!
Sam is also the illustrator of the award-winning Brattle titles, The Last Akaway and The Rock of Sarraka. Sam is also the illustrator of Brattle's 1 For All by Sean McCollum.
Other Books by This Author