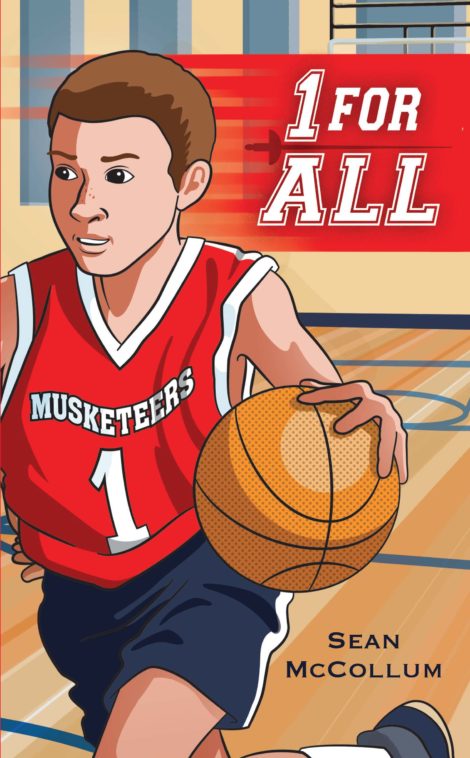 Ages 9 to 13
1 For All: A Basketball Story About the Meaning of Team
by Sean McCollum
In his new book about a basketball team, Sean McCollum introduces J.J. Pickett, the captain of the Traverse Middle School Musketeers. J.J. thinks this year he will lead his eighth-grade team to the conference title. But bad breaks, a new coach, and a long-standing grudge sabotage J.J.'s hopes and leave him struggling on and off the court. Can J.J. and his teammates salvage a lost season?
Where to Buy
Suggested Retail Price: $9.99
Distributor: Ingram Wholesale
Reviews
"McCollum pays special attention to interactions . . . between players on and off the court as he draws the tales of winners [and] losers. . . The result . . . is realistic, vivid, and captures the strategies, challenges, and dilemmas of players, managers, and those involved in building basketball dreams."
"McCollum's energetic tale probes themes of self-awareness and self-restraint, team spiritedness, and players' love of the game. The narrative features sharply drawn characters . . . and plenty of vigorous play-by-play to hold . . . fans' interest.  [The book] is an absorbing and perceptive . . . adventure with considerable literary flair."
Goodreads:
"I felt on every page of 1 For All that I was in the hands of an accomplished storyteller. The characters felt like friends in the end."
– Tod Olson, author of Into the Clouds and Scholastic's Lost Series
"There are so many good thinks happening between the pages…life lessons that are timeless. Highly recommended for your readers, especially those who are reluctant readers."
– Bret Jaeger, Library Director, Waupun Public Library
Goodreads:
"Uplifting team spirit to make you an instant fan of 1 For All, team captain J.J. Pickett, and author, Sean McCollum."
Reader's Favorite:
"Author Sean McCollum writes with a real sense of pride and passion for sport and the encouragement of athleticism and teamwork in young children. Overall, 1 For All is a highly engaging work of MG [Middle Grade] fiction which is certain to captivate sports fans young and old."
McCollum was able to transport this reader back to teenage memories of musky-smelling locker rooms, sweaty palms, rolling emotions, and the heady perfumes of the opposite sex—no mean feat, since those years are buried in neurons six decades in the making. Not only that, I learned something about basketball with quick action scenes, hand-sketched play diagrams, and dialogue spot-on for a new generation of kids. I know McCollum's journalistic work to be accurate and entertaining. He makes the transition to telling a story of young angst seem effortless, although as a writer myself, I know it's not.
About Sean McCollum
Sean McCollum was raised in Wisconsin, graduated from Lawrence University, and left the United States soon after to backpack around the world. During his travels, he worked on scientific projects in Australia and the South Pacific, taught English in East Asia, and traveled overland 5,000 miles across Africa. Drawing on his adventures, McCollum began a career in writing in New York City in 1992. Today, Sean is a digital nomad, writing stories and articles from all around the world. Together with his partner of 30 years, Sean has lived in Latin America, the Caribbean, Europe, the Middle East, East Asia, Oceania and the South Pacific, and has traveled in some 65 countries. He is the author of more than 60 titles and hundreds of magazine articles for such publications as National Geographic Kids, Junior Scholastic, and Teaching Tolerance. Sean also develops online educational content for the Kennedy Center. 1 For All is his first book with Brattle Trade, a Division of Brattle Publishing Group®.