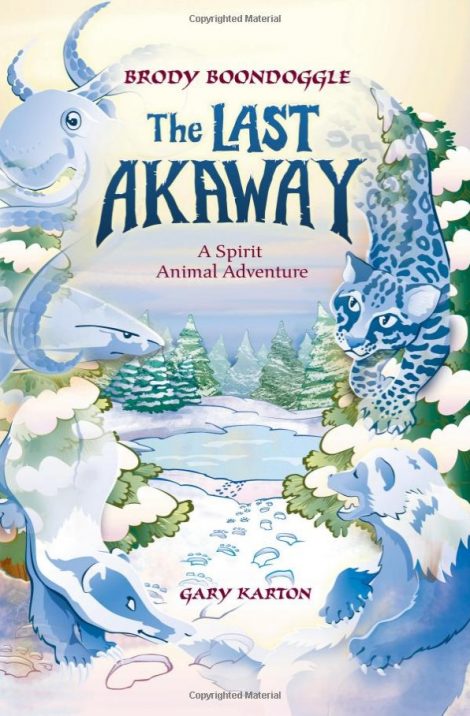 Ages 9 to 13
The Last Akaway: A Spirit Animal Adventure
by Gary Karton
2013 Bronze Moonbeam Award Winner (Pre-Teen Fantasy)
2014 Bronze Reader's Favorite (Sci-Fi/Fantasy)
What's an Akaway?
An Akaway is a rare and magical creature that connects you to your spirit animal. Once you've connected, you have all the special powers that your spirit animal possesses.
But those powers are in serious jeopardy when the diabolical Uncle Skeeta tricks 11-year-old Brody Boondoggle into helping him steal the Akaway's spirit.
Now, aided by his skeptical big brother, Jake, and guided by his quirky Grammy, Brody must lead the way on an adventure to defeat Uncle Skeeta, save the last Akaway, and protect the special powers of kids everywhere.
Where to Buy
Suggested Retail Price: $14.99
Reviews
"A refreshingly imaginative, emotionally satisfying quest for all ages. . .Author Karton has an ear finely tuned to the rhythms and sweet absurdities of childhood patter, and his tale has enough fabulous twists and turns to keep even the most grown-up young adults intrigued. . .Adults reading to children will also delight in the wholesomely irreverent tone and moments of linguistic fancy. . . the villain and resolution are wonderfully original."
About Gary Karton
Gary is a collaborative partner and contributor to Brattle Publishing's catalog. Gary began his career as a reporter for The Washington Post. He stood out because of an innate ability to unjam the copy machine under deadline pressure. He has spent the past 17 years working for children and families at nonprofits such as the Welfare to Work Partnership, the Elizabeth Glaser Pediatric AIDS Foundation, and Safe Kids Worldwide. He is also the author of No Free Lunch: One Man's Journey from Welfare to the American Dream (Ballantine, May 2002). Gary lives in Virginia with his wife, two sons, and dog.
Other Books by This Author